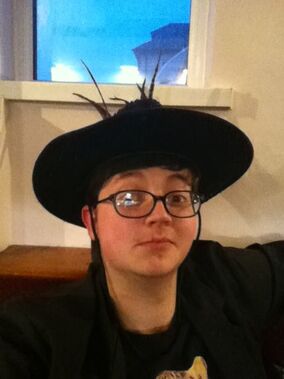 "Did somebody call for the banblade?"
Ben Smith, Livestream Mod.
Ben Smith, known in DAGames by his moniker of AgentBSmith, is the Head Mod of DAGames. He helps run the mod group and is the great DA Memelord. (No Kim, you don't count) He's known for being the one who k̶n̶o̶c̶k̶s̶ times out or bans anyone who breaks rules or undermines DAGames.
Autobiography
Ben lives in England, a strange land that knows nothing known as the Sun. 99% overcast and 1% water, it's a silly place. He goes to University, studying music and has a job with the company Dark Cleo Productions. Doing Livestreams, demoing card/board games and helping with Cosplay. He's known for making MANY memes of Will, Chloe, DA fans and even himself. He plays Rocket League almost 24/7 and the rest of the time is devoted to GMod.
Quotes
"So, who needs to be banned now?"
"Oh for Cthluhu/Talos sake"
"Nailed it"
"I'm mildly moist"
"You sadden me"
"I'm not THAT fat"